Adoration of the Magi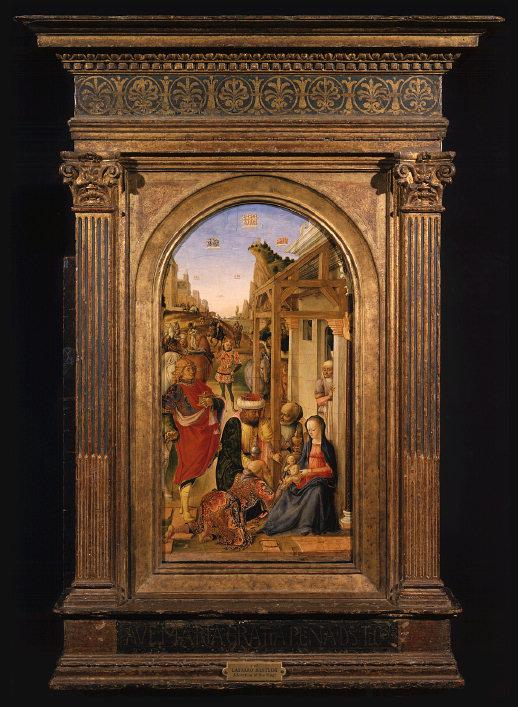 Transcript
Facing each other in this area are two works by Venetian painters, executed two hundred and fifty years apart. Here you see Lazzaro Bastiani's Adoration of the Magi of about 1475, painted on panel in tempera--a medium in which colored pigments are mixed with egg whites. With the golden aura and jewel-like effects that characterized Venetian painting from the earliest days, it depicts in vivid detail the arrival of the three kings, come to worship the newborn Christ and to offer him precious gifts--one of which St. Joseph is about to squirrel away. The adventures of their journey are shown in the dreamlike landscape above. Angels accompany the Magi on a squadron of flying saucers--the red seraphim gifted with love, and the blue cherubim gifted with knowledge. Another airborne drama is depicted on the opposite wall, with Giovanni Battista Tiepolo's Perseus and Andromeda, a study for a ceiling fresco the artist painted in Milan about 1730, but which was destroyed by bombing in 1943. Soaring through the buff-colored clouds on his winged horse Pegasus, the hero Perseus grasps the princess Andromeda. He has just unchained from the rock to which she had been attached and freed from the snaggle-toothed monster who would have gobbled her up. Minerva and Jupiter observe the drama from on high. With Tiepolo, as this small sketch suggests, four centuries of continuous artistic excellence in Venice conclude with glorious fireworks.
Adoration of the Magi
Medium:
Tempera on poplar panel
Dimensions:
20 1/2 x 11 in. (52.1 x 27.9 cm)
Credit Line:
Purchased by The Frick Collection, 1935
Accession number:
1935.1.130
Additional Information
Sir William Neville Abdy, London. His sale, May 5, 1911, Christie's, Lot 131. Purchased by Colnaghi's London as Bartolomeo Vivarini. J. Pierpont Morgan. Frick, 1935.

Source: Paintings in The Frick Collection: French, Italian and Spanish. Volume II. New York: The Frick Collection, 1968.