King Philip IV of Spain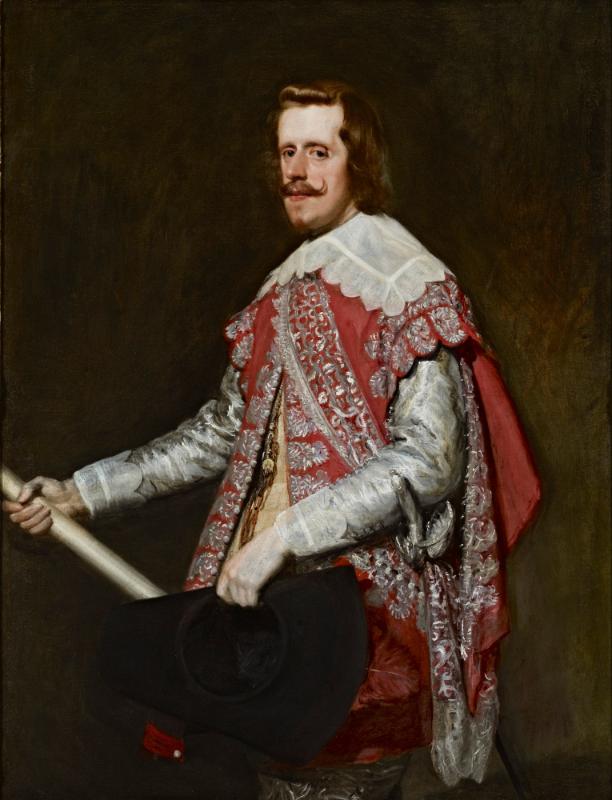 Transcript
Philip IV of Spain was known more for his lavish patronage of the arts than for his military prowess, but on May 15, 1644, he led his troops to an important victory over the French at the Catalan town of Lerida. His entourage included Velazquez, his court painter and close friend. At the nearby town of Fraga, Philip posed for this portrait--now called the "Fraga Philip"--in a makeshift studio with a floor strewn with reeds; he is dressed in the elaborate costume that he wore during the campaign. Velazquez's masterful technique is evident here everywhere--giving a somewhat summary description, but with total control of the brush. The brilliant rose tunic, with its silvers, whites and grays, stands out against the plain umber background--extraordinary color harmonies, unique to Velazquez. There's also a characteristic rigor to the composition that is very appealing to modern viewers. The geometrical forms of the hat and the bold line of the staff in Philip's hand seem almost like abstract elements set against the elaborate details of his clothing. And then there's that extraordinary face, totally regal, totally believable. There are relatively few works by Velazquez outside Spain, and to buy a fully documented portrait of a king was a tremendous achievement--in fact, this is one of the most expensive and important paintings Henry Clay Frick ever acquired.
King Philip IV of Spain
Dimensions:
51 1/8 x 39 1/8 in. (129.9 x 99.4 cm)
Credit Line:
Henry Clay Frick Bequest
Accession number:
1911.1.123
Additional Information
Philip IV (1605–65), who succeeded to the throne in 1621, was a weak ruler but a lavish patron of the arts and letters. He promoted the Spanish theater, built the Palacio del Buen-Retiro, enlarged the royal collections, and was Velázquez' most ardent supporter. In 1644 Velázquez accompanied the King on a campaign to Catalonia, where the Spanish army led a successful siege of Lérida against the French. In the town of Fraga, the King's headquarters, in a dilapidated, makeshift studio, Philip posed for this portrait dressed in the silver-and-rose costume he wore during the campaign. Although Velázquez painted numerous portraits of Philip IV, this is the only one dating from the 1640s.

Source: Art in The Frick Collection: Paintings, Sculpture, Decorative Arts, New York: Harry N. Abrams, 1996.

Royal family of Spain. Ducal family of Parma, at Parma (1748); at Wartegg Castle, Switzerland; at Schwarzau am Steinfelde, Austria (1864); at Liechtenegg Castle, Austria (after 1907); and at Vienna. Sold by Prince Elias of Bourbon-Parma to Agnew in 1910. Sold by Knoedler (with Scott and Fowles) to Henry C. Frick, 1911.

Source: Paintings in The Frick Collection: French, Italian and Spanish. Volume II. New York: The Frick Collection, 1968.