Self-Portrait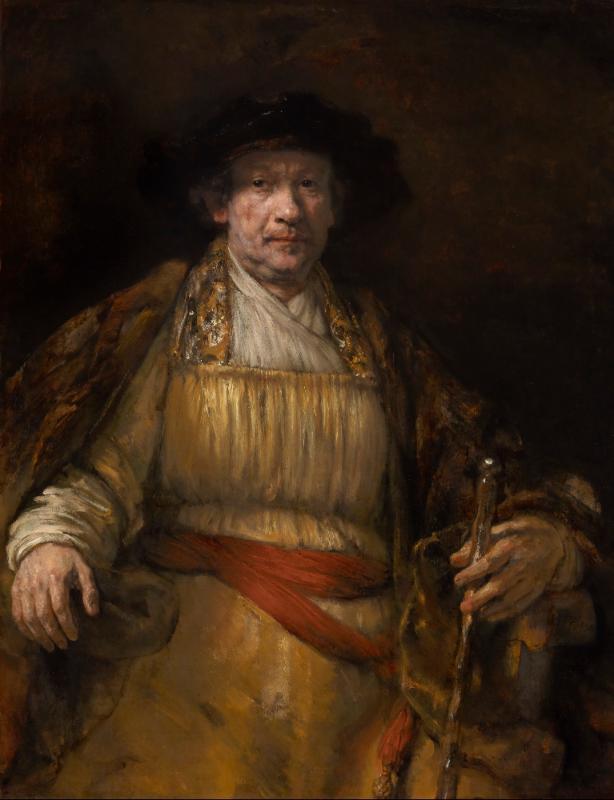 Transcript
Of the many self-portraits Rembrandt painted over a lifetime, this is perhaps the ultimate one, not only for its poignant revelations of the self, but for its painterly magnificence. It gleams as though made of gold, and its rugged paint surfaces suggest the artist might have mixed crushed jewels with his pigments. The initial effect is daunting, as though we were confronting an ill-tempered monarch or a very rich grandfather displeased with our conduct. The strange outfit he wears is beyond time, like a priest's vestments. In place of a crown, a large velvet beret floats over his head like a cloud at night. He fingers a staff as though it were a scepter. Yet this feeling of an uneasy confrontation diminishes as we study the features. The wariness and impatience seem like a veil shadowing the man's real face, which is blurred and scarred--by time, sorrows, and illness. Yet Rembrandt was only fifty-two when he signed and dated this portrait. He was also a small man, but he portrayed his figure in monumental dimensions. It is almost as though he decided to pack his entire life into this image of himself, both what had gone before, and what lay ahead. The gigantic hands before us are crucial to the portrait's effect, reminding us of Rembrandt's profession as an artist. They, after all, are the physical instruments with which he created this grand illusion, and so many others.
Self-Portrait
Dimensions:
52 5/8 x 40 7/8 in. (133.7 x 103.8 cm)
Credit Line:
Henry Clay Frick Bequest
Accession number:
1906.1.97
Additional Information
Earls of Ilchester. Knoedler. Frick, 1906.

Source: Paintings in The Frick Collection: American, British, Dutch, Flemish and German. Volume I. New York: The Frick Collection, 1968.