General John Burgoyne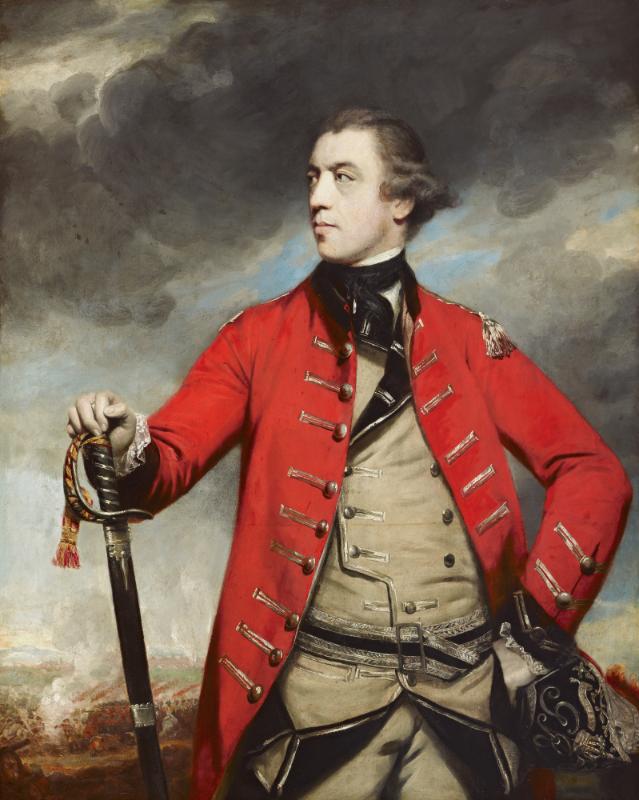 Transcript
General John Burgoyne became the toast of London after his victorious 1762 Portuguese campaign in the Seven Years War. During the heady decade that followed, Burgoyne served in Parliament, acted in amateur theatricals, gambled a lot, and wrote several plays. He also cultivated the friendship of Sir Joshua Reynolds, first president of the Royal Academy and London's most fashionable portraitist. Burgoyne's senior officer during the Portuguese campaign may have commissioned this commanding portrait to commemorate their shared success. Here, in what would become a staple of Romantic portraiture, Burgoyne's dashing military figure stands silhouetted against a dramatic cloudy sky. He wears the brilliant red uniform of the Sixteenth Light Dragoons, one hand resting with authority on his sword, the other clasping his elegant plumed hat. In the distance, along the very low horizon, an actual battle rages--you can make out a tiny cannon in the corner and lines of redcoats marching forward, just as we've seen them in countless movies. Burgoyne was sent to America three times during the Revolution. On his final posting, he was in charge of all British forces in the north. He triumphed at Ticonderoga, but history books emphasize his best-known role--as the British commander who surrendered to American troops at Saratoga in 1777.
General John Burgoyne
Dimensions:
50 x 39 7/8 in. (127 x 101.3 cm)
Framed: 60 1/2 × 50 1/2 × 3 1/2 in. (153.7 × 128.3 × 8.9 cm)
Credit Line:
Purchased by The Frick Collection, 1943
Accession number:
1943.1.149
Additional Information
Best remembered as the British commander who in 1777 surrendered to American forces at Saratoga, John Burgoyne (1722–92) was also known in his day as a dandy, gambler, actor, amateur playwright, and Member of Parliament. This portrait may have been commissioned by his senior officer, Count La Lippe, as a memento of their Portuguese campaign of 1762. It is presumably the portrait that resulted from a sitting by General Burgoyne noted in Reynolds' ledger for May of 1766; Burgoyne's uniform is that of the Sixteenth Light Dragoons as it was worn until that month. The composition, with the dashing figure silhouetted before a low horizon and cloudy sky, was to become a classic type in Romantic portraiture.

Source: Art in The Frick Collection: Paintings, Sculpture, Decorative Arts, New York: Harry N. Abrams, 1996.

Count La Lippe, London, acquired in 1767 (?). Princes of Schaumburg-Lippe, Schloss Bückeburg, Germany. P. Rusch, Dresden. J. Pierpont Morgan. Knoedler. Frick, 1945.

Source: Paintings in The Frick Collection: American, British, Dutch, Flemish and German. Volume I. New York: The Frick Collection, 1968.