The Bullfight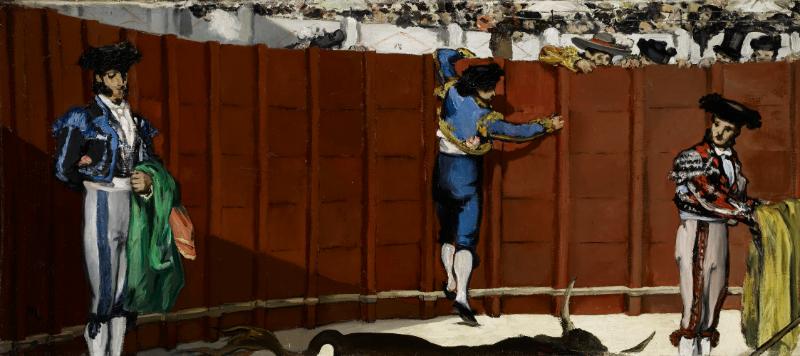 Transcript
Painted in 1864, this work is by no means the latest in date in The Collection, but it is one of the modern in feeling. The flat, strong colors applied in broad brushstrokes, the abrupt transitions between light and shadow...and the condensed space announce a bold new shorthand method of representation. The urbane Frenchman, Manet, is associated with scenes of contemporary Parisian life, but in his early work he often turned to Spanish themes. A year after painting this canvas, he traveled to Spain--an arduous journey at the time--and attended a bullfight, and, of course, spent hours in front of the paintings by Goya and Velazquez in the Prado. The unusual format of this canvas--the odd cropping of two of the figures' feet, and of most of the bull--are due to the fact that Manet cut into two pieces a painting he had exhibited earlier that year entitled An Incident in the Bullring. Wounded by the criticism of his handling of perspective, Manet divided the canvas and reworked both parts. The Frick painting is the upper section. The larger, bottom half, known as The Dead Toreador, is now in the National Gallery of Art. This is not the only instance of Manet's unusual method of reworking a painting--other examples of severed works exist in which the two parts were then developed into independent paintings.
The Bullfight
Dimensions:
18 7/8 x 42 7/8 in. (47.9 x 108.9 cm)
Credit Line:
Henry Clay Frick Bequest
Accession number:
1914.1.86
Additional Information
In 1864 Manet exhibited at the Salon a painting entitled An Incident in the Bullring. The work was savagely caricatured and criticized, one writer describing its subject as "a toreador of wood killed by a horned rat." After the picture was returned from the Salon, Manet cut out two separate compositions from the canvas, possibly because he accepted the criticism as justified. The lower, larger section, now known as The Dead Toreador, is in the National Gallery, Washington. Both sections of the original canvas were subsequently reworked by the artist, the head of the bull being added to the Frick segment after the painting had been divided.

Unlike some of his American contemporaries, Mr. Frick showed little interest in the Impressionists. His acquisitions in this area were limited to this work by Manet, the paintings by Renoir and Degas, and two landscapes by Monet, one of which he sold back. The other — Banks of the Seine, Lavacourt — as always remained in his Pittsburgh residence.

Source: Art in The Frick Collection: Paintings, Sculpture, Decorative Arts, New York: Harry N. Abrams, 1996.

Baron Vitta, Paris. J.H. Dunn, London. Knoedler. Frick, 1914.

Source: Paintings in The Frick Collection: French, Italian and Spanish. Volume II. New York: The Frick Collection, 1968.